F21: Sons of Ultron
From Embedded Systems Learning Academy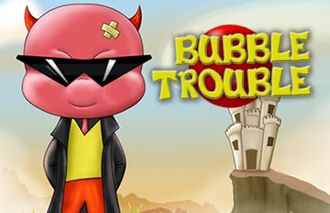 Bubble Trouble
Abstract
Clear all the bubbles and get yourself out of trouble !! "Bubble Trouble" is a fun game where each time you hit a big bubble, it will split up into two smaller ones. Avoid the bubbles as they bounce through the level. Race against time, collect all the traps and power-ups you can use to be the best at this game. Do you have what it takes to be the ultimate bubble shooter?. This is all displayed in the LED matrix acting as the screen. Use your spike gun to pop all the bubbles from the largest to the smallest bits. Can you clear each level?.
Objectives & Introduction
Show list of your objectives. This section includes the high level details of your project. You can write about the various sensors or peripherals you used to get your project completed.
Technical Responsibilities
Administrative Roles
Rishabh Gupta & Vilas Dhuri & Saharsh Shivhare
Vilas Dhuri
Rishabh Gupta
Rishabh Gupta & Vilas Dhuri & Saharsh Shivhare

Splash Screen Graphics Driver

Vilas Dhuri & Saharsh Shivhare
Saharsh Shivhare
Vilas Dhuri & Saharsh Shivhare
Administrative Responsibilities
Administrative Roles
Rishabh Gupta
Rishabh Gupta
Rishabh Gupta & Vilas Dhuri & Saharsh Shivhare
Vilas Dhuri

Bill of Materials Manager

Saharsh Shivhare
Schedule
Week#
Start Date
End Date
Task
Status
1

Read previous projects, gather information, and discuss among the group members.
Create a GitLab repository for the project.

2

Order necessary parts
Distributing project tasks among group members

3

Read and familiarize with LED Matrix Datasheet.
Read and familiarize with MP3 Decoder Datasheet.

4

Finalize wiki schedule
Developing graphics driver for LED matrix and implementing initial game objects
Designing Game Start-up Screen and Game Over screen
Designing PCB and Circuit Simulation in Eagle Tool

Completed
Completed
Completed
In Progress

5

Joystick integration
Implementing Character Movement through Joystick
Implementing Arrow shooting logic
Designing and Implementing Ball Trajectory and bounce logic

Completed
Completed
Completed
Completed

6

Implementing Ball Spliting logic
Developing Screen Transition and Menu Selection logic
Game logic development
Testing and debugging the game logic

In Progress
In Progress
In Progress
In Progress

7

Integrating MP3 decoder into the game
Integrating Zigbee for wireless remote control
Integrating game logic code with LED matrix
Integrating game sounds with game logic

Not started
Not started
Not started
Not started

8

Integrate subsystem
Finalizing the video game
Update the wiki page.

Not started
Not started
Not started

9

Address bugs during testing of integrated system
Test pause/play functionality

Not started
Not started
Not started

10

12/16/2021
12/14/2021
12/14/2021
12/14/2021

12/16/2021
12/16/2021
12/16/2021
12/16/2021

Final Demo
Update Gitlab repo with final code.
Update test video.
Update the wiki page.

Not started
Not started
Not started
Not started
---
Parts List & Cost
Give a simple list of the cost of your project broken down by components. Do not write long stories here.
Design & Implementation
The design section can go over your hardware and software design. Organize this section using sub-sections that go over your design and implementation.
Hardware Design
Discuss your hardware design here. Show detailed schematics, and the interface here.
Hardware Interface
In this section, you can describe how your hardware communicates, such as which BUSes used. You can discuss your driver implementation here, such that the Software Design section is isolated to talk about high level workings rather than inner working of your project.
Software Design
Show your software design. For example, if you are designing an MP3 Player, show the tasks that you are using, and what they are doing at a high level. Do not show the details of the code. For example, do not show exact code, but you may show psuedocode and fragments of code. Keep in mind that you are showing DESIGN of your software, not the inner workings of it.
Implementation
This section includes implementation, but again, not the details, just the high level. For example, you can list the steps it takes to communicate over a sensor, or the steps needed to write a page of memory onto SPI Flash. You can include sub-sections for each of your component implementation.
Testing & Technical Challenges
Describe the challenges of your project. What advise would you give yourself or someone else if your project can be started from scratch again? Make a smooth transition to testing section and described what it took to test your project.
Include sub-sections that list out a problem and solution, such as:
<Bug/issue name>
Discuss the issue and resolution.
Conclusion
Conclude your project here. You can recap your testing and problems. You should address the "so what" part here to indicate what you ultimately learnt from this project. How has this project increased your knowledge?
Project Video
Upload a video of your project and post the link here.
Project Source Code
References
Acknowledgement
Any acknowledgement that you may wish to provide can be included here.
References Used
List any references used in project.
Appendix
You can list the references you used.